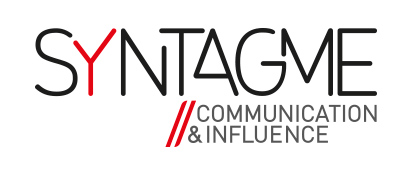 22 quai Sarrail – 69006 Lyon
info@syntagme.fr
+33 478 249 570
Présentation
Influence is not a bad word! To communicate is to influence… It is to seek an impact on decisions and behaviors, it is to bring the person to whom we are addressing to study another vision of things, to change his reasoning. Influence is therefore preparing opinion, internal or external, identifying and entering into contact with stakeholders, convincing…
Our 5 areas of intervention:
Corporate and institutional communication // Public affairs // Communication of opinion and commitment // Management of crisis and sensitive situations // Internal and social communication.
Our 6 integrated expertise:
Internal and external opinion surveys (via our subsidiary Opinions en Région) // audit and strategic advice // support for executives // strategies and content creation // graphic design studio // media and social media relations
Syntagme represents Thomas Marko & Associés in the South East of France.
Opinions en Région is a joint subsidiary of Syntagme and Thomas Marko & Associés.
Our main customers 2019-2020:
Groupe Aesio, Agence Alpine des Territoires, APRR, Groupe Brandt, Citeo, Cluster Lumière, Departmental Council of Ain, Departmental Council of Bas-Rhin, Engie, Festival of Geopolitics of Grenoble, Grand Lac, Groupama RAA, Journées de l ' Economy, JTEKT, Keolis, Kronenbourg, Leo Lagrange, Serfim Groupe, SNCF Réseau, Tecumseh, Tigex, Voisin,